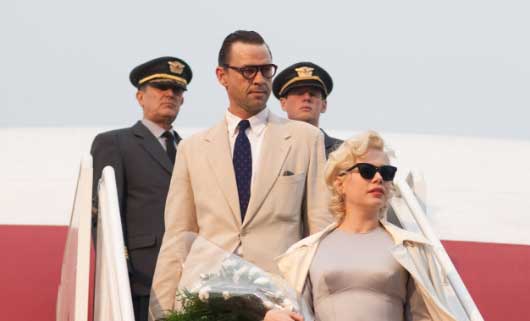 Lights, Camera, Action
The Perfect Filming Location
A Unique Corporate Entertainment
Set against a backdrop of authentic WW2 airfield buildings, the British Airliner Collection provides a superb resource for period aircraft interiors or boarding shots. The flight decks are superbly restored, many with illuminated instrument panels. Meanwhile, over at the Military Vehicles Collection, there's a huge resource of tanks, trucks and other period battlefield muscle.
My Week With Marilyn
Our collections have provided authentic detail for many documentaries and feature films. The shot to the left is taken from My Week With Marilyn, a Trademark Films production that featured appearances by some of our stars. We're well- used to the needs and schedules of film companies, and we have a track record of being flexible and accommodating.
Unique Group Experiences
We also regularly offer exclusive events in and around our aircraft and vehicles. If you'd like to treat your customers, colleagues, family or friends to a really different experience, share your ideas with us and we'll put together something really special. We can work with large or small groups, and we're more than happy to discuss timings outside normal hours if that's what you prefer.
The first step would be to Get in touch and let's see what we can create together.
Registered Charity No. 285809